During the Erasmus + Program Refugees welcome – When numbers become faces our team of students, decided that we wanted to support the refugee community in every way we could. We chose to first face all the discrimination surrounding foreigners with an act of unity, as an attempt to show people that we, as humans, are not as different as we may imagine. Since we are only students and cannot really have an influence on adult communities, we decided to focus on sensitizing our own milieu, which mainly consists of our school and for that, we decided to partner up we people of our own age.
As the majority of our schoolmates are heavily invested into sports we decided the best way to approach this, was through that domain and so we began planning a multicultural basketball game since it is one of the most popular sports in the country. Our first task was to establish contact with the Intercultural High School of Athens, with whose students we hoped to organize the game. After we received a positive response from the students and the consent of both our teachers, we moved on to find a venue. Thankfully, extremely close to our school, lies the stadium of Panathinaikos, one of the country's biggest sporting teams, and after we explained our cause together with some persuasion from our teachers, the team agreed on lending us their basketball court for a few hours. From there, everything else was simple and after some more preparations, on November second we were ready to welcome our fellow teammates.
When the kids came to our school we first dedicated some time to get to know each other and then proceeded to the court to get the game started. With the help of our gym class teachers we got the court ready and prepared jerseys for the two teams to wear. Also we set up two video cameras and occupied a couple of our classmates to capture the occasion. Since the stadium is quite large we managed to invite a few classes from the school to watch the game and after setting up the teams, which were mixed in order to avoid any type of rivalry, we were ready to begin the match. The game lasted as long as a professional match would and after the last whistle the teams shook hands, exchanged jerseys and everyone went home.
The idea behind this intercultural game was for everyone to shed their differences and unite through sports. It was an attempt to show the students of our school that we are all the same regardless and language, skin colour or origin. Furthermore we wanted to offer the kids from the intercultural school a fun and unforgettable experience and also give everyone the opportunity to meet new amazing people and make new friends.
Overall we consider this event a major success as the results were really close to our expectations. First of all the entirety of the process was really fun, both organizing and participating was an incredible experience. Also, we did get to make new friends and meet new cultures as well as offer both our school a way to let out some steam. Most importantly though, I think we achieved our main goal, which was to show to as many of our schoolmates as possible, what this program has taught us. We are all one. We may be different in one way or another but we all belong to the same race and we should live in unity.
The group of kids we got to meet consists mainly of economical immigrants who decided to move to our county because of the terrible economic condition of their homeland. One boy I got the chance to talk to called Ali Mahfuj moved out here two years ago at the age of thirteen from Bangladesh. As he said, the decision to move was solely made by his parents as they thought life here would be easier. He clearly stated he had no wish to leave his home but after having lived here for a couple of years now he actually prefers how his life has turned out to be.
This was the first action we made, happen as an attempt to impact the community around us regarding the refugee phenomenon. As minor as it may sound we managed through one simple basketball match to influence, even slightly, the lives of every participant regardless of whether they are Greek or come from elsewhere, regardless of whether they played ball or just laid back and watched. Everyone who took part in this cultural collision now shares the same viewpoint as we do regarding people from different countries with different cultures. That, at least for us, is a success.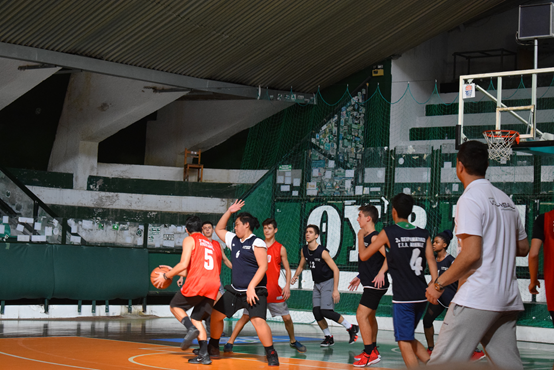 ERASMUS+ KA2 "Refugees welcome-when numbers become faces". Organising social volunteering activities for forced immigrants. Action 1: Sport in mixed Teams